O prezentare a imprimantei 3D Bambu Lab P1S – un dispozitiv cu performanțe direct din cutie! Imprimanta 3D Bambu Lab P1S oferă o cameră complet închisă și un sistem de răcire îmbunătățit, care include un ventilator auxiliar pentru răcirea pieselor, un ventilator de reglare a temperaturii din cameră și un ventilator pentru răcirea plăcii de control.
Cu caracteristici precum nivelarea automată a patului și compensarea vibrațiilor, această imprimantă va asigura imprimări perfecte în mod constant. Este echipată și cu un filtru cu cărbune activ pentru a elimina mirosurile și gazele dăunătoare emise în timpul imprimării anumitor filamente precum ABS. Această imprimantă este proiectată pentru a vă ușura munca, fără calibrare sau ajustări manuale. Pur și simplu apăsați butonul de imprimare și lăsați imprimanta să-și facă treaba – veți obține imprimări fără probleme în mod constant cu imprimanta 3D Bambu Lab P1S.
Caracteristici principale:
Funcțională imediat din cutie, configurată în 15 minute
Hardware și software rafinate
Corp închis pentru imprimarea la temperaturi ridicate
Până la 16 culori cu AMS
Accelerație de până la 20.000 mm/s2, printează un benchy în 18 minute
Cameră integrată pentru monitorizare de la distanta și timelapse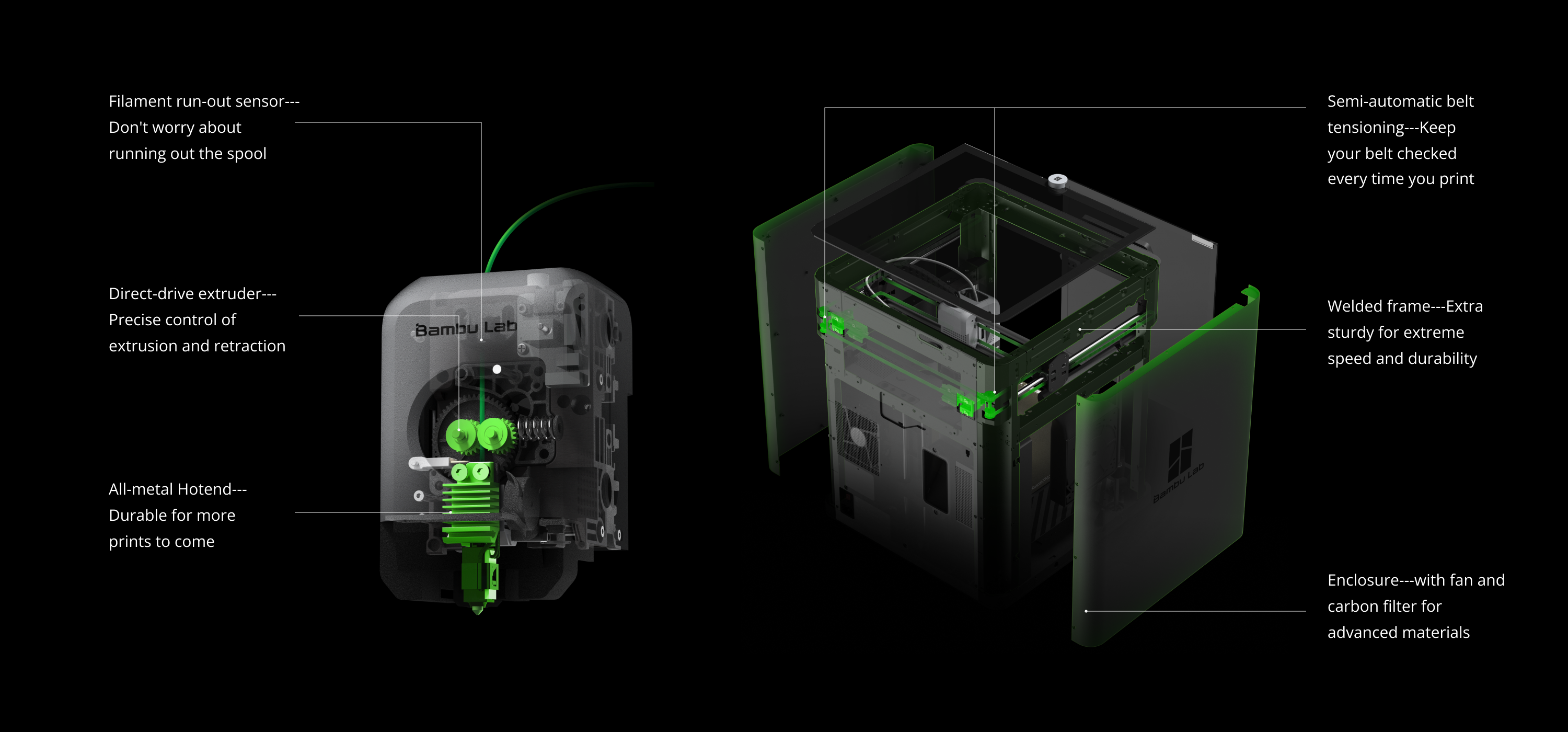 All advanced features of P1S printer
Parameters Comparison
P1P
P1S
Build Volume(WxDxH)
256 x 256 x 256 mm³
Shell
Open frame (Printable Modplates Available)
Enclosed (Plastic & Glass)
Hot End
All-Metal
Nozzle
Stainless Steel
Max Hot End Temperature
300 ℃
Nozzle Diameter

0.4 mm (Included) 0.2 mm,

0.6 mm, 0.8 mm (Optional)

Build Plate Surface Compatibility

Bambu Cool Plate,Bambu Engineering Plate,

Bambu High Temperature Plate

Bambu Textured PEI Plate,Bambu Cool Plate,

Bambu Engineering Plate,Bambu High Temperature Plate

Max Build Plate Temperature
100℃
Max Speed of Tool Head
500 mm/s
Max Acceleration of Tool Head
20 m/s²
Control Board Fan
Optional
Closed Loop Control
Chamber Temperature Regulator Fan
Optional
Closed Loop Control
Auxiliary Part Cooling Fan
Optional
Closed Loop Control
Air Filter
Optional
Activated Carbon Filter
Supported Filament

Ideal: PLA, PETG, TPU, PVA, PET, ABS, ASA

Capable: PA, PC

Ideal: PLA, PETG, TPU, ASA, PVA, PET, ABS, ASA

Capable: PA, PC

Chamber Monitoring Camera

Low Rate Camera 1280 x 720/0.5fps

Timelapse Supported

Filament Run Out Sensor
Yes
Physical Dimensions

P1P:386 * 389 * 458 mm³,

Package size 485 × 480 × 528 mm³,

Net weight 9.65kg, Gross weight 14.3 kg

P1S:389 * 389 * 458 mm³,

Package size 485 × 480 × 530 mm³,

Net weight 12.95kg,  Gross weight 17.6 kg

P1S Combo:Package size 485 × 480 × 585 mm³,

Gross weight (AMS included) 21.6 kg

Electrical Requirements
100-240 VAC, 50/60 Hz, 1000 W @220 V, 350W@110V
Ce se găsește în cutie
Imprimantă 3D Bambu Lab P1S
Cap de imprimare din oțel inoxidabil cu duză
Platformă de imprimare
Filament Bambu
Ac pentru deblocare
Cablu de alimentare
Cutie accesorii
 "`
P1S Combo: Bambu AMS inclus în pachet
Acest accesoriu adițional păstrează filamentul dvs. protejat de umiditate și schimbă filamentul folosit în mod automat în timpul unei tipăriri, astfel încât să puteți combina mai multe culori și materiale într-un obiect de tipărire.
Fiecare unitate AMS conține 4 role. Pentru a lucra cu cele 16 culori / materiale maxime posibile, aveți nevoie în plus de 4 stații AMS și un hub AMS.